A Letter From RN & Joyride Harness Customer Laura Fortner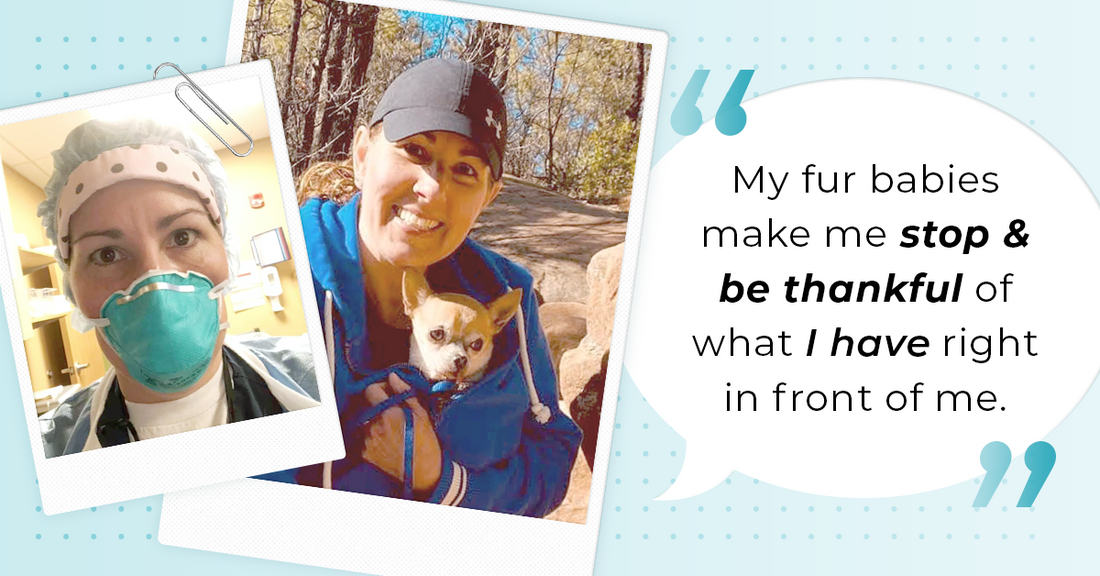 Typically, our Harness Files interviews are done in a Q&A format, but when we connected with Joyride Harness customer and RN Laura Fortner, she shared with us a story that can only be shared in full. We're humbled to have had the opportunity to connect with someone so incredibly authentic, loving of her fur babies, and with selfless experience on the frontlines during the COVID-19 pandemic, this story is being shared as it was written by Laura to best deliver from her perspective.
NOTE: No HIPAA policies were violated in the sharing of these images.
From the desk of Laura Fortner:
To give you a little background of me, I am an Operating Room Travel RN.  I am a wife of 3 years to my wonderful husband who humored me and married me on Valentine's Day. I am a mother of 4 children (3 sons, and a daughter). I am a Mimi to two beautiful grandbabies ( a two year old little girl and a one year old little boy). I am a fur mom to two chihuahuas (8# Tinkerbell and 5# Buddy) and a Rottweiler named Bear.  However, my daughter has decided to claim the Rottweiler, so Bear lives with her. 
I have been an RN since 2012.  I have been practicing in the OR since October 2013.  I fell in love with the OR for many reasons.  Just a few of those reasons are: my patients have my full attention one patient at a time, they are unconscious (which is a good thing sometimes) and they put their complete faith in my skills to be their advocate during their surgery, and they may never remember me, and that is okay.  I know I gave them my very best while they were in my care.  I tell their family members that the patient will be treated like my family member while I am caring for them.  And that seems to put them more at ease.  
I have been a travel OR RN since 2018.  I chose to become a travel RN for three reasons, to learn something new, to go somewhere I have never been, and to make more money.  I did not go very far from home for the first year and a half.  I was very nervous and anxious about being away from home for so long.  So I would work all week, drive 2 hours home, see the family for a day and a half, and drive 2 hours back to my work destination to start it all over again. 
During my first year of travel assignments, I had to leave my fur babies home because the housing landlords did not allow pets.  It really is hard leaving them behind.  This last assignment I was on, I went to Arizona and was able to take my 5# fur baby Buddy.  My next assignment will be in Florida, and I am hoping to bring both the chihuahuas with me, but I think Tinkerbell is pregnant.  I have a midwoof oncall if she goes into labor while I am away.  The hubby is handling that part of the household drama for me. 
While I am away from home, there is stress that occurs at home that I try to tend to from long distance.  There is stress that I have to deal with business-wise just being a travel RN. There is stress related to the new facility, new software, new faces, finding supplies, even knowing where to put my lunch can be stressful.  No family nearby to rely on, and when I can't take my fur babies with me, it gets lonely.  Then, add to these stressors, a pandemic and chaos in the world.  So, I pray a lot, meditate, exercise, watch tv in my pjs curled up on the couch with my fur baby, and plan some outings to explore this world around us which helps me appreciate what I do even more. 
While I was in Arizona, I was blessed enough to be on assignment with a fellow travel RN and former co-worker when we were staff at a local hospital back home in Georgia.  While we were 1500 miles away from home, the pandemic caused the world to go crazy and it became very apparent that our somewhat normal life was about to be turned upside down.  Our hours got cut drastically at work as the elective surgeries were canceled.  The N95 masks had to be put under lock and key.  The goggles were never in great supply.  The scrubs we were required to wear had to be moved for monitoring so the other staff members of the hospital would not take our supply of scrubs and to keep them from contaminating our scrubs, as they were coming into our showers in the OR locker room to wash off after caring for potential Covid patients. We were required to have our temperature taken every day during huddle when we first reported into work.  
It was like people just forgot to be human and started hoarding stuff from our stash that we were required to have to do surgeries.  I have never seen such craziness. And yet, the OR staff I worked directly with were the most kind, considerate, and amazing people you could ever hope to meet in your life. My coworker and fellow traveler RN had our hours cut so bad, we had to just come home.  Since being home, we both had to file for unemployment as the travel assignments for the OR are scarce right now.  
By the grace of God and all that is good, my recruiter fought for me to get a contract in Florida. I leave next Monday to get to my new assignment destination.  Unfortunately, my fellow traveler RN will not be able to go with me as her home life took a turn for the worse (family member has cancer and she is needed to stay home).
When I am so far away from home on my assignments, the one thing that seems to give me balance and peace and love without conditions is having my little fur baby waiting for me to get home.  The world may be going crazy, but my fur babies make me stop and be thankful of what I have right in front of me. 
Every. 
Single. 
Day. 
Tinkerbell is my 8 year old long-haired sassy little 8# chihuahua and she will lick you until she thinks you are clean. In 2012, I adopted Tinkerbell when she was just 7 months old from a breeder in Macon Georgia with the hope of having a puppy or two one day because of her sweet and precious personality.  She was only 7 months old when I found her and fell in love.  Buddy is my toothless 5# short-haired chihuahua that is scared of everything but knows what time dinner is served. In 2017, I adopted Buddy (when he was 5 years old) as a rescue from a puppy mill where he was the sire of 3 litters. The breeder had 14 puppies under the age of two weeks old and 5 litters total at the time that I had rescued his sweet little self.  Bear is my 80+ pound Rottweiler and is the sweetest biggest most spoiled baby, and my daughter has officially claimed him as her fur baby now.  I rescued Bear from a lady who could not care for an 8 week old ankle-biting active puppy while she was try to care for her two year old toddler. I was worried he would end up with a dog fighter, so I took him in.  Bear has been a huge slobbery blessing to our family since 2015.
I am so thankful for social media, and especially Facebook for introducing me to Joyride harnesses.  I have yet to receive my three harnesses, but I am so excited to get them.  Traveling with my fur babies and making sure they are safe and secure is of tremendous importance to me.  And with Bear being so large, he cannot be walked without a harness of some kind.  I ordered the two XS for my little wee ones, and ordered Bear the XL as a replacement harness.  His previous harness met its demise as a chew toy.  I chose different patterns and colors based on my fur babies' personalities.  I am just over-the-moon excited to get these.  With the ease of putting them on to the colorful choices, I just had to have them.  The seat belt straps were just an added bonus.  Bear is the only one of the fur babies that gets excited to put his harness on that he dances when trying to get him ready for his walks.  I felt like this was a smart decision for my daughter to use.  She and I both struggled trying to get his harness on correctly, it was either upside down or inside out or he would put two legs in one hole and we would have to start over.  By the time he is ready, we are worn out and don't want to go for a walk.  But he loves it, so we do it for THE BEAR.  Tinkerbell hates her harness that she has now.  I am hoping that her new Joyride Harness will convince her otherwise.  Buddy is so easy going. I am sure he will love his star-spangled blue harness when it arrives.  
Thank you again for being so fabulous and thank you for supporting me and my fur babies.
Love and Hugs,
Laura Becherer RN
P.S. - Tinkerbell may be pregnant.  I am taking her to the vet Friday for x-rays to be sure.  Her EDD is April 28th, which means Buddy got "a hold" of her February 25th (the night before I had to leave to go to Arizona.)  At 5pm exactly.  For three years he has tried, and with no success.  The night before I have to drive 1500 miles to an assignment, the little booger decides to get crazy with my precious Tinkerbell.  Just keep us, and Tinkerbell, in your prayers.  If she is, then I will also be a Mimi to fur grandbabies.  Lord help me. 
--------------
We thank Laura for not only being a part of the Joyride Harness family and sharing her story with us, but for the continued actions on her behalf that make this world less bleak than it actually is right now. 
We wish her, her family, and fur babies good health and all things good in this world!
Share this post