5 Christmas Dinner Foods Dangerous to Dogs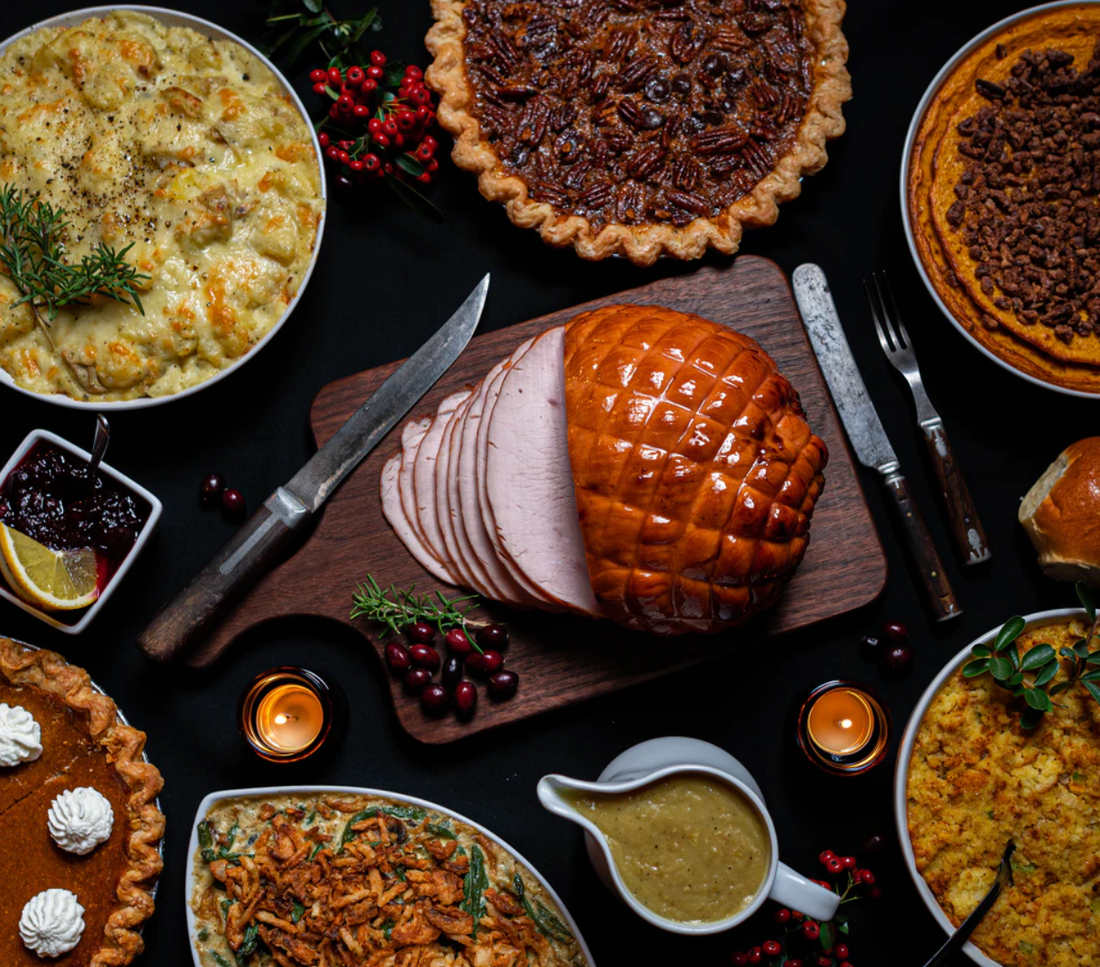 Tis the season to be cautious!
With the array of delectable smells that will take over your household for Christmas, your dog's nose will be tempted to go on a tasting adventure. 
Sharing food here and there with your dog becomes a problem when you don't know which foods are harmful or life-threatening to dogs. We recommend reading up on foods served during Christmas that fall into that category.
Oh, wait. You're here! You can start with our list of dangerous holiday foods to keep away from your fur baby. 
Here are 5 Christmas dinner foods that are dangerous to dogs.
DISCLAIMER: There are more than 5. What you see here is a selection of 5 of the most common foods during the Christmas season.
#1 - Christmas Ham
This isn't just for Christmas. Any ham at any time of year is extremely dangerous for your dog and should be kept out of reach at all costs to avoid what comes next: Pork products including ham can lead to pancreatitis in addition to upset stomach and diarrhea. It also contains too much fat which can lead to dog obesity. 
#2 - Nutmeg
According to the Animal Rescue Site, "Sweet potatoes and pumpkin, in appropriate doses, are a healthy treat for your dog. But you will want to take special precautions and make sure that neither of those have nutmeg on them before feeding. Nutmeg can cause seizures if your dog consumes it alone or as an ingredient in sweet potatoes or pumpkin, and in extreme cases can even lead to death."
#3 - Cooked Bones
Bones soften when they're cooked, and when ingested by dogs, numerous fatal things can happen. Cooked bones could result in cuts in your dog's mouth, the splintering of bones in the esophagus, choking, intestinal blockage, and gastrointestinal bleeds.
#4 - Raw Dough
This isn't a treat you're likely to feed your dog, but raw dough usually sits on countertops when being prepared for bread. That means it's free for your dog to get their mouths on. This dough typically has yeast in it and when it comes into contact with your dog's stomach, it can expand to cause bloated stomachs, upset stomachs, or lead to fatality. Additionally, it's subject to ferment in your dog's stomach which means alcohol and carbon dioxide which is toxic when absorbed by the gastrointestinal tract.
#5 - Mashed Potatoes
Potatoes, generally, are not dangerous to dogs but mashed potatoes and the way it is prepared should be of concern. Some recipes include garlic and onion powder which are known toxic food items to dogs. Additionally, mashed potatoes call for milk and butter. Dogs that are lactose intolerant may experience discomfort in their stomach and diarrhea. It's best to keep mashed potatoes off your dog's Thanksgiving dinner menu.
What you've just read is a sampling of blog posts we offer at Joyride Harness. We cover current events, informational posts, interviews, and more! You can find more content including tips and tricks and how-tos for caring for your dog on our blog at
this section
.
Share this post