10 Reasons Why We Love Millie & Rupert The Huskies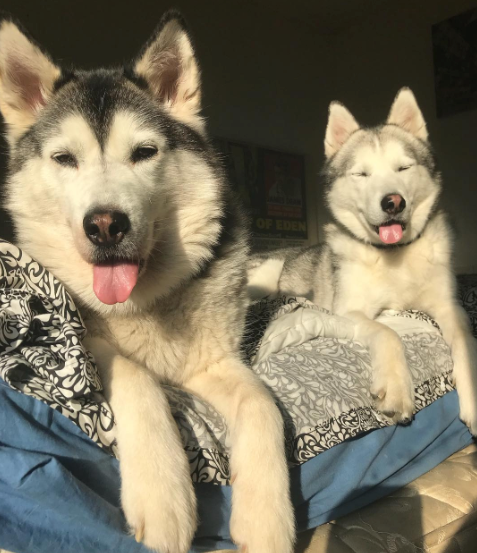 Picture it. You're hanging out with a group of friends and killing time. You pull out your phone and open up the Instagram app. You love seeing your friends and all on your feed, but nothing compares to those dog profiles with cute photos and you wish you could be the dog mom or dad to all of them. You show your friends the profiles you're following and have a blast laughing and aww'ing at the posts.
These doggos are blessings to the internet!
We're so honored to get to work with so many dog personalities in the digital space, and we're trying to show our love one post at a time! So this week, we're spotlighting Millie and Rupert the Huskies. 
Are you prepared for the adorableness that's about to be revealed? If you haven't discovered Millie and Rupert yet, you're about to find out what makes them so amazing. So! We present to you….
10 Reasons Why We Love Millie & Rupert The Huskies
#10 - They work hard for their deserved attention.
"I OWN YOU HUMAN."
#9 - Millie has the most adorable sneeze.
Bless you!
#8 - They know how to have fun!
Sliding action.
#7 - On hidden camera, the fur babies know how to take care of their baby human.
That also means teaching him to give them treats when the adults aren't around.
#6 - Everyday's a party with these two.
Because why not?
#5 - Millie is out to steal your heart.
Thank you for the love, Millie!
#4 - Their pack is an adorable one.
You mess with the baby, you mess with us!
#3 - They love other doggos!
Look how happy Millie is with this new friend.
#2 - They've fully trained human baby to give treats.
Human baby is still working on portions but Millie and Rupert are loving the process.
#1 - Their pack grows. Welcome to the family Lola!
Just when you thought there was enough to love with Millie and Rupert. 
We firmly believe everyone's day could shine a little brighter when dedicating a certain amount of time - duration of your choosing - to watching dog videos each day. Millie, Rupert, and now Lola certainly share something special and we're so happy to be a part of it!
If you're not following already, you can follow these lovable huskies and their human family on Instagram: CLICK HERE
Share this post