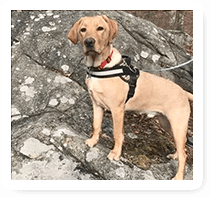 Making life much easier for everyone!
ANGIE W.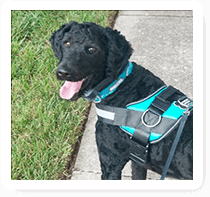 Best Harness Ever!
DANA D.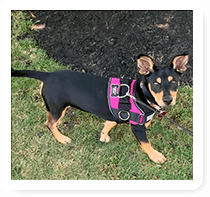 No more wrestling with our puppy!
BRIAN B.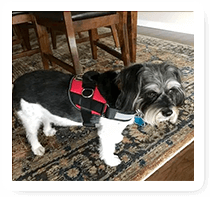 My girl LOVES this harness!
ASHLEY C.

No More Two-Leash Tango!
Easy to handle, durable, and strong. With this practical double leash, you can walk two dogs at once while maintaining safe control over both of them. One-handed tangle-free walks are priceless!
Dual Dog Leash Features: 
LEASH SIZE: 55"
PREMIUM QUALITY:

 

No-Tangle Dual Dog Leash with padded handle and clips is an easy and comfortable solution for walking two dogs.
CONVENIENCE: The swivel construction gives your dogs more freedom to move and prevents them from getting tangled. The coupler will automatically adjust itself when your dogs criss-cross each other without the walker's hassle of having to untangle them.
Dual Dog Leash Setup:
For ultimate control when it comes to dog training, use a dual dog leash setup using one of our many no-pull dog harnesses. You can use this method to walk two dogs with control, or you can use a dual leash method to control your heavy puller. Simply attach one leash clip to the no-pull harness and the other to your dog's collar. Alternatively, you can connect both leash clips to separate harness attachment rings.
Confused on what size to pick? Use our sizing guide below:
For size 'XS', dogs should weigh between 5-9 lbs and have a chest size of 12-17". Suitable breeds include Chihuahuas, Yorkies, Pomeranians, and Small Puppies.
For size 'S', choose this for dogs weighing 10-19 lbs, chest 17-22". This fits Mini Schnauzers, Shih Tzu, Bichon Frise, and Maltese.
Size 'M' is ideal for dogs weighing 20-40 lbs with a chest size of 23-28". This includes breeds like Pugs, French Bulldogs, and Corgis.
Size 'L' is for dogs weighing 40-60 lbs, chest size 28-33", fitting breeds like Australian Shepherds, Basset Hounds, and Standard Poodles.
For size 'XL', select this for dogs weighing 60-85 lbs, with a chest size of 33-38". Breeds like Labs, German Shepherds, and Golden Retrievers fit into this size.
Lastly, size 'XXL' is for dogs weighing 85-140 lbs, chest size 38-44". Breeds in this category include Rottweilers, Tibetan Mastiffs, and Bullmastiffs.