See The Joyride Harness In Action: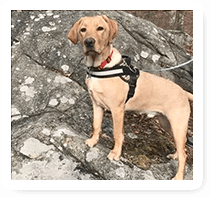 Making life much easier for everyone!
ANGIE W.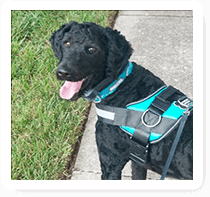 Best Harness Ever!
DANA D.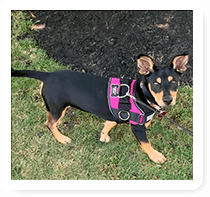 No more wrestling with our puppy!
BRIAN B.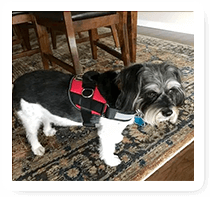 My girl LOVES this harness!
ASHLEY C.
Lavender Dog Harness Additional Information 
The beautiful color lavender gets its name from the equally pretty flower. If you're looking for dog gear that will help your dog shine like the beautiful flower she is, then you need a Joyride Lavender Dog Harness. 
Our goal is to make dog gear that is both fashionable and durable for dogs of all shapes and sizes. The Lavender Dog Harness features a subtle plaid pattern that will look great on dogs of all colors. But don't let this delicate pattern fool you: our harness can withstand even the toughest of pullers. Featuring 3 attachment rings for a fully customizable walking experience, the Joyride Lavender Dog Harness is available in six sizes ranging from XS to XXL. For a heavy puller, we recommend using a side ring attachment for the most effective no-pull training. If you are traveling by vehicle, we recommend attaching a dog seat belt to the back ring. 
All of our harnesses are made with heavy-duty materials that will last a dog's lifetime. Even though our Lavender Dog Harness is tough on pulling, it's not tough on your dog's sensitive skin. If your dog has experienced chafing or sores in the past with a harness, you need a new one. Poorly made or improperly fitted harnesses can rub in the wrong places. Additionally, thick and uncomfortable fabrics can cause discomfort. To prevent this, our lavender dog harness is lined with fleece to keep your dog comfortable at all times. If you are concerned about possible chafing, check your dog's body where the harness comes in contact with their body. If you notice hair loss or irritated spots that are red, you may be having issues with your current harness.
Lavender Dog Harness Features
-Heavy-duty materials and soft fleece for maximum durability and comfort
-Reflective materials around the chest and head area increases nighttime visibility
-Revolutionary three attachment point system 
-Stylish lavender plaid design 
If you like our Lavender Dog Harness in plaid, you may also like our Fall Plaid Harness, Purple Plaid Harness, and White Plaid Harness. 
Confused on what size to pick? Use our sizing guide below:
For size 'XS', dogs should weigh between 5-9 lbs and have a chest size of 12-17". Suitable breeds include Chihuahuas, Yorkies, Pomeranians, and Small Puppies.
For size 'S', choose this for dogs weighing 10-19 lbs, chest 17-22". This fits Mini Schnauzers, Shih Tzu, Bichon Frise, and Maltese.
Size 'M' is ideal for dogs weighing 20-40 lbs with a chest size of 23-28". This includes breeds like Pugs, French Bulldogs, and Corgis.
Size 'L' is for dogs weighing 40-60 lbs, chest size 28-33", fitting breeds like Australian Shepherds, Basset Hounds, and Standard Poodles.
For size 'XL', select this for dogs weighing 60-85 lbs, with a chest size of 33-38". Breeds like Labs, German Shepherds, and Golden Retrievers fit into this size.
Lastly, size 'XXL' is for dogs weighing 85-140 lbs, chest size 38-44". Breeds in this category include Rottweilers, Tibetan Mastiffs, and Bullmastiffs.