The Best Christmas Presents for Dogs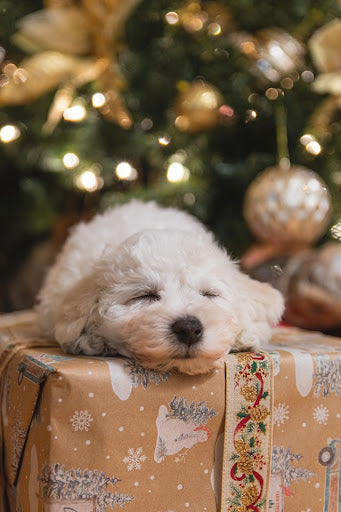 Did your pup make the naughty or nice list this year? 
Trick question! Everyone knows that all dogs are good dogs, and they deserve to be spoiled rotten. Dogs enjoy Christmas as much as we do, so don't leave Fido feeling left out this holiday season. 
Even though our dogs may not know exactly what is going on, they enjoy spending time with us and opening presents. Make sure you check your list twice to make sure your pooch is included! Then, you can check everything off your list with the best Christmas presents for dogs brought to you by Joyride Harness. 
Wondering what to get your dog for Christmas this year? Keep reading for some inspiring dog Christmas gift ideas!
For the Dog That Loves Snow
Does your fur baby love frolicking in the snow? Do they think snowballs are just the winter version of tennis balls? Let your dog express their inner snow dog with a Winter Snowman Dog Harness! 
This adorable snowman harness features a light blue background with a cute snowman pattern. It's the perfect addition to your pup's holiday wardrobe and looks great on both light and dark fur colors!
For another harness like snow other, don't forget to check out our Winter Snowflake Dog Harness! This design features a darker background and a white snowflake pattern. It looks great on all dogs but really stands out against white fur!
For the Dog That Hates Sweaters
Is your dog tired of opening their presents every year only to find another sweater? Shake things up a bit this year with a Holiday Sweater Dog Harness! 
Your dog will look adorable in holiday photos, and you won't have to choose between a cute sweater or a practical harness. This is one of the best Christmas presents for dogs who want to look cute but still need the control of a no-pull harness!
For the Dog that Loves a Classic Christmas 
Need a classic Christmas gift idea for your dog? Nothing exudes a good old-fashioned family Christmas quite like our Plaid Christmas Dog Harness! This festive no-pull harness features a tartan pattern in the classic Christmas colors: red, green, and white. 
With this harness under the tree this year, your pup will be ready for all the winter walks!
For the Dog That Loves a Bold Look 
Red and black buffalo check is a quintessential holiday pattern. Now, your fur baby can rock around the Christmas tree in style with a bold Red Plaid Dog Harness! This fashionable choice will boldly stand out on black dogs, white dogs, and all the puppies in between!
This pattern is also available in a Christmas-ready Green Plaid Dog Harness, which is perfect for two-dog households.
For the Dog that Can be Naughty 
If your dog is bad to the bone but still deserves more than a lump of coal, they need the Black Skulls Joyride Harness 2.0! The new glow-in-the-dark design will help you keep an eye on him, even when it's dark. This dog Christmas gift idea is perfect year-round, too! It is also available in a pink skulls pattern.
Bonus: Stocking Stuffers! 
Now that you've found the best Christmas presents for dogs to put under the tree, it's time to look at stocking stuffers! 
For the pup that does a lot of traveling in the car, we recommend a dog safety seat belt and a back seat dog cover! The seat belt will keep your best friend safely contained, while the back seat will help to protect your car's upholstery.  
Do you and your dog frequently walk at night? The LED Dog Tag Light is the perfect gift to make those cold winter nights a little brighter!
Does your pup like to do his business on walks? Never scramble for a poop bag again with our bone-shaped Poop Bag Dispenser! It conveniently attaches to your leash, harness, backpack, or purse. Its universal size is easy to refill with our earth-friendly Scented Poop Bags!
Make Your Holidays Brighter with Joyride!
The best Christmas presents for dogs are the ones that they really need! Nothing says "I love you" more than a Joyride Harness and matching accessories underneath the Christmas tree. 
You and your pup will both love a new Joyride harness because it is safe, comfortable, and stylish! Let your dog shine this holiday season with the gift of Joyride! Be sure to follow us on Instagram @JoyrideHarness to see our cute customers in their Joyride gear!
Share this post