September 2023 Free Desktop & Mobile Wallpaper For Dog Lovers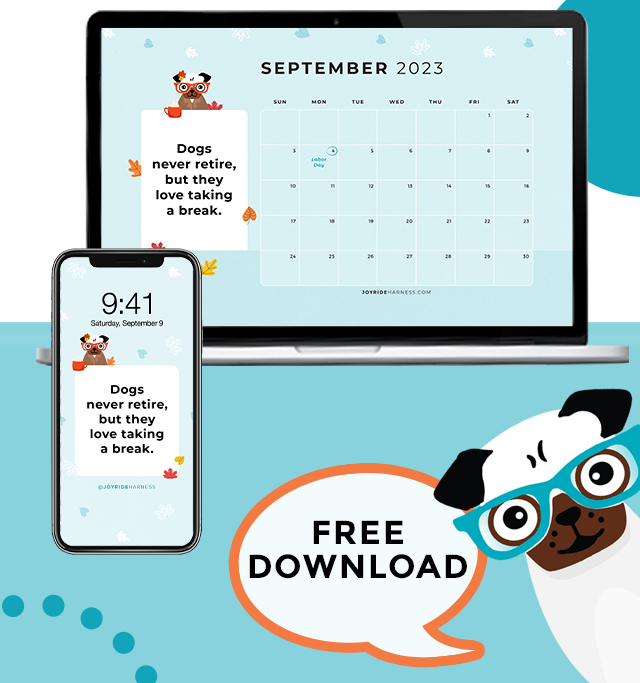 Get ready for the changing colors and crisp air because fall is right around the corner! And you know what that means? Your fur baby is going to go absolutely wild with excitement!
Keep a watchful eye on their behavior, get out and explore despite the cooler weather, and provide them with a cozy haven at home. Engage in playful indoor games, challenge their minds, and don't forget to spoil them with seasonal treats and extra cuddles.
Together, let's make this fall season a memorable one for you and your furry friend. Get ready for leaf-crunching adventures and tail-wagging fun.
Oh before you go...
We've got a treat to share with you! Every month at Joyride Harness, we share with our email subscribers a free digital download. We've got new desktop and mobile wallpapers here for you with this special reminder: 
"Dogs never retire, but they love taking a break."
How To Set The Wallpaper as Your Desktop Background
Below you will find instructions for setting the wallpaper as your background depending on which type of desktop device you're using.

How to Set Up (Mac Users):
1. Download this file: Click Here.
2. Save the file to Pictures folder on you Mac.
3. Click the Apple Menu and select System Preferences. 
4. Go to Desktop & Screensaver. 
5. In the left panel, go to Folders > Pictures. 
6. Select the downloaded image. 
OR
1. Download this file: Click Here.
2. Save the file to a preferred folder.
3. Open the folder and right click on the downloaded file.
4. Select Set Desktop Wallpaper.
How to Set Up (PC/Windows Users):
1. Download this file: Click Here.
2. Click the Windows icon on the bottom of the screen.
3. Select Settings > Personalization.
4. Click on Background.
5. Set the dropdown to Picture and click Browse below the images that appear.
6. Select the downloaded file.
---
We hope you enjoy your new digital download! More on the way from Joyride Harness.
P.S.  Say hello and see adorable dog photos every day by following us on Instagram and Facebook! 🐶 
Share this post