Reviews For The Best Seasonal Red Plaid Dog Harness Are In!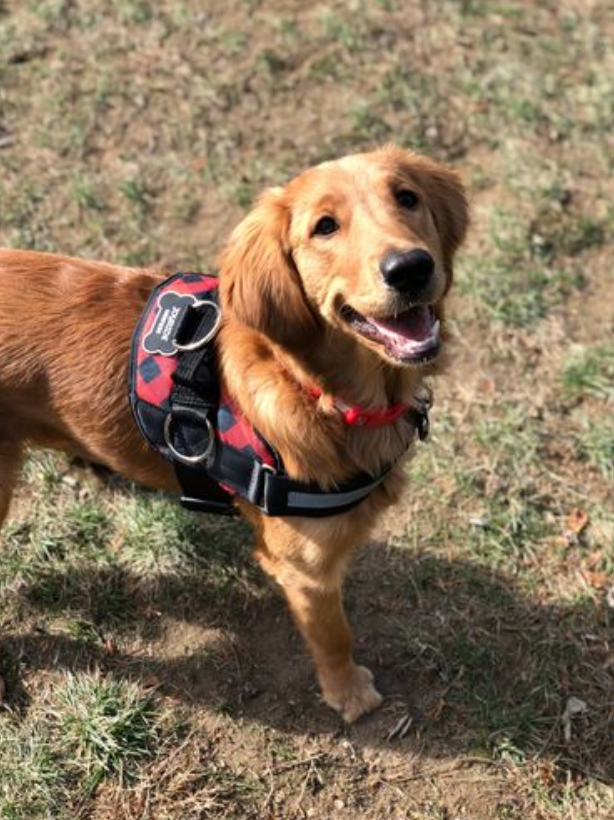 Back in the Fall, we introduced a series of holiday/seasonal harness designs for your fur baby because Joyride Harness is where comfort and fashion intersect! One of the most popular to come out of the new designs is the Limited Edition Red Plaid dog harness. Plaid really never goes out of style so we took the love of the Fall Plaid harness and created some variations in green and red, but red seems to be a hit at the moment!
We've rounded up a number of customer submitted reviews (you can view them all here) from happy doggos and customers who received the Limited Edition Red Plaid dog harness. See how they love it!
Kenneth W. - ⭐⭐⭐⭐⭐/5
Size/Color: Small - Red Plaid
"We love the red plaid for our new Yorkie mix rescue! He is a therapy dog who participates in reading programs at schools and libraries. He will look so handsome at his visits and on our many walks."
Megan R. - ⭐⭐⭐⭐⭐/5
Size/Color: Medium - Red Plaid
"This is so EASY to get on and off! My dog is semi-difficult when it comes to harnesses and he hated putting on his old one. This just has the velcro strap over the front and the clip for the strap under the legs. It looks amazing on him and he'll sit still for us! Sometimes the strap comes a smidge loose but it is easy to adjust and tighten."
Maryellen V. - ⭐⭐⭐⭐⭐/5
Size/Color: Large - Red Plaid
"This is definitely worth the money much better than I expected and I love it. I will only buy this brand from now on"
Marta L. - ⭐⭐⭐⭐⭐/5
Size/Color: Large - Red Plaid
"I had purchased the Plaid Fall Edition in an XS size in the FALL.  It fit ABSOLUTELY perfect, just right around the girth! I was concerned because Max was like a Tea Cup size dog.  I wasn't sure if it would be too big. But being that WINTER freezing cold weather was here, I would need a Larger size to fit OVER his heavy winter coats. I had my eye out on the RED PLAID limited Edition one and loved it for the WINTER , so I got it in SIZE S. It FIT WONDERFUL over his Heavy winter coats! Just RIGHT! The QUALITY is tops! Excellent made in EVERY detail. STRONG, sturdy,  Max seems to like it. It looks comfortable too! He doesn't fuss when I put it on. It goes on quickly. The RINGS are placed ingeniously in the harness along with the Led lights, that can be removed and attached back again. I feel safer that cars are able to detect the moving lights and can spot the tiny dog of 6+ lbs. I am So impressed with the Handle at the TOP portion of the harness TOO!  In case I need to reach Down for the dog quickly, in the event of an attacking pet or. an automobile that could strike him, I can quickly REACH DOWN and lift him up quickly. I am MORE than happy with this product! It looks like it could last a lifetime. It's made THAT WELL!💗BUT because I'm into fashion , even for my pets, I do have future plans to invest in the "Other" unique fashionable colored and print harnesses. This is my third Harness. These ARE by far the Best! Thank you! Also, customer service was awesome. I like that they inform with Email step by step verification and tracking of the product as to when it will get to my home. That is a PLUS!"
These are just a few of our customers' submitted reviews. You can view all submitted reviews by checking out this page. You'll find a healthy combination of honest reviews! We also have more blog posts that round up reviews based on different dog types for your convenience.
Additionally, if you have sizing questions you can always reach our team through the contact form on our website if the sizing charts provided on this page do not suffice! You'll find two charts available for sizing reference based on weight and girth measurements.
Want more? Feel free to follow us on Instagram at @joyrideharness and take a look at more furbaby photos! New to Joyride Harness and need some help picking the right size for your doggo? We have a detailed informational blog post that you can check out: Click Here To View
Share this post