REVIEW: Best Dog Harness Now Available In Teal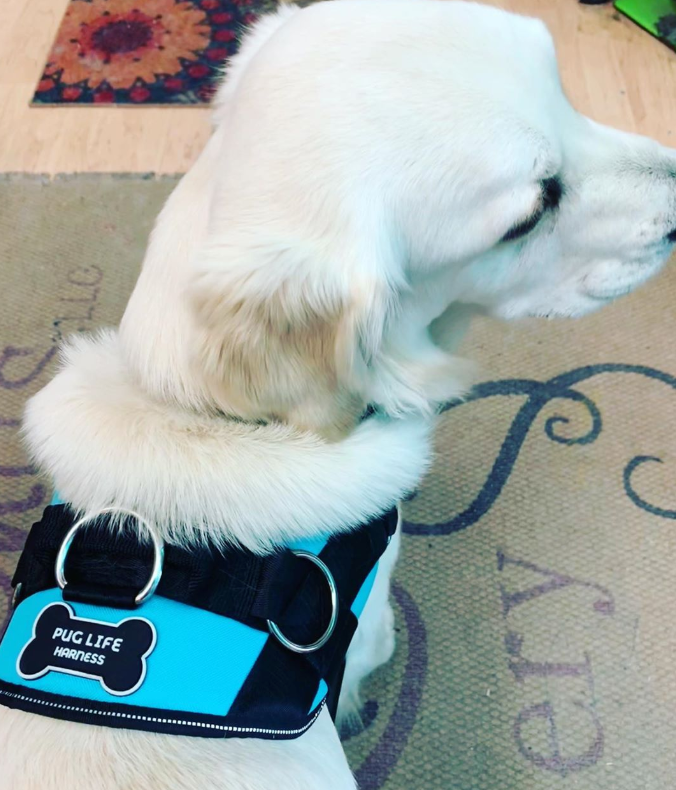 Earlier this month, we launched THREE new Joyride Harness designs and colors. It's always been our mission to provide quality harnesses to improve the dog walking experience, but what we also take into consideration is personality and style.
We have blue harnesses.
We have green harnesses.
But it wasn't until this month that we began offering TEAL harnesses. 
We are huge supporters of selecting styles that fit your dog not only in size but in personality as well, and you know your dog best!
So far customers are loving the new teal harness. We've rounded up a few customer submitted reviews and photos so you can see the new colored harness with your very own eyes. 
Danielle S. - ⭐⭐⭐⭐⭐/5
Size/Color: XL - Teal
"We love this harness! Neptune and I have a few different colors to show off and every one we've gotten has had consistent quality. You can tell that Neptune thinks I'm crazy if I don't put on her Joyride Harness when we go for walks, but it's super easy to put on so there's no excuse."
William K. - ⭐⭐⭐⭐⭐/5
Size/Color: M - Teal
"Teal !! You got me teal !!  Col. Mosby is a 15 month old Boston Terrier. He had been wearing a small size which was becoming a smidgen too tight. We ordered two mediums in Teal and Red hoping they wouldn't be way too big. Happily they have enough adjustment to fit him and plenty of room to grow. Pretty sure this will be the permanent size we use. Teal looks very nice on his black and white color. Joyride Harness is a very well made harness and the reflectiveness at night is a plus. Mosby readily lets us put it on him. Very pleased."
Even customers are taking to social media showing off their fur baby in the new teal Joyride Harness! Just take a look at this sweet bundle of love named Peanut who looks super handsome in this color. 
These are just a few of our customers' submitted reviews. You can view all submitted reviews by checking out this page. You'll find a healthy combination of honest reviews! We also have more blog posts that round up reviews based on different dog types for your convenience.
Additionally, if you have sizing questions you can always reach our team through the contact form on our website if the sizing charts provided on this page do not suffice! You'll find two charts available for sizing reference based on weight and girth measurements.
Want more? Feel free to follow us on Instagram at @joyrideharness and take a look at more furbaby photos! New to Joyride Harness and need some help picking the right size for your doggo? We have a detailed informational blog post that you can check out: Click Here To View
Share this post