My Dog, My Friend: Heartwarming Stories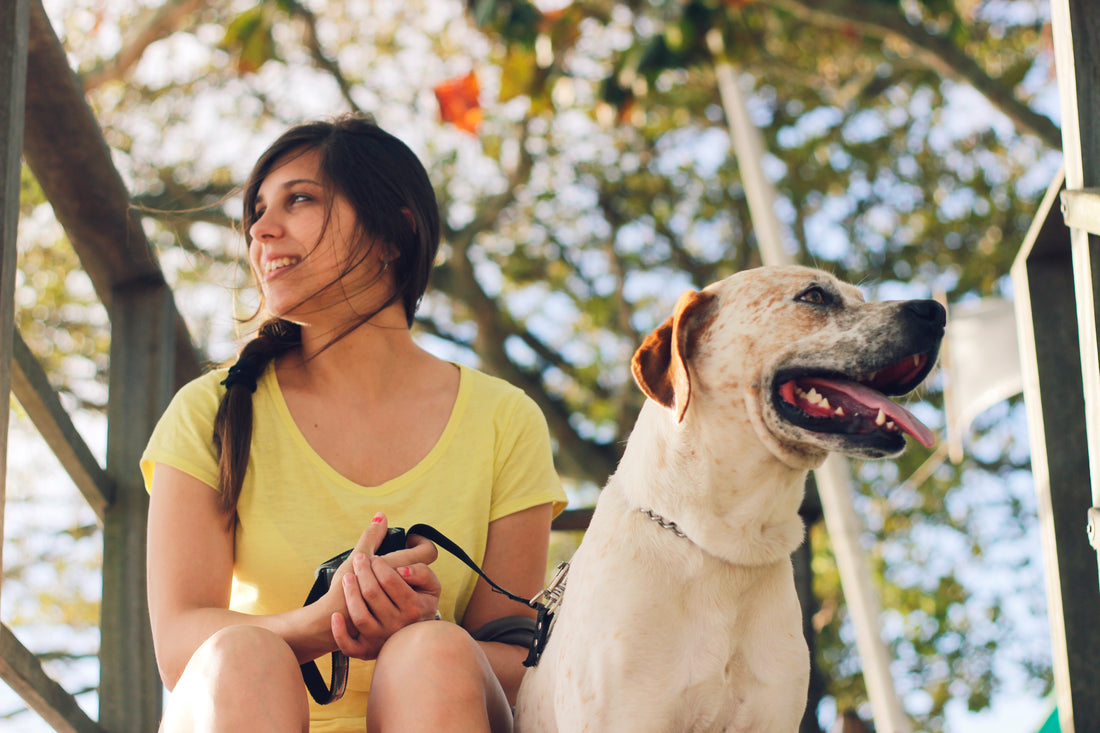 When we first introduced the My Featured Friend blog series, we had no idea what to expect. We received countless submissions detailing stories of how dog parents found their forever friend and how furbabies found their forever home. Some are heartbreaking stories, others are heartwarming.
One My Featured Friend spotlight story goes up each month. This month? You get an extra dose of these stories. We rounded up some of our favorite stories to share with you!
Terri P.T. & Cooper
"I was watching the news one Sunday evening when a story came on about 15 minitaure Australian Shepherds that were stuffed into two crates and left at a county animal shelter. In the front of the cage looking out at the camera was a sweet, beautiful pup, that would later come to live with me...my Cooper! The Florida Urgent Rescue team came and got the dogs from the shelter and asked that anyone interested go to their website and fill out an application. Mine was one of 170 applications submitted. About a week later I got the call, asking if I was still interested. I said yes! Cooper was one of the older dogs and the best we could tell, the person who dumped the dogs was a backyard breeder and Cooper was the sire. Part Aussie and part Chow (his tongue has purple blotches on it) he is smart, loving, eager to please and a joy to have around. We have come a long way in a year. He is my ever faithful companion, follows me wherever I go and we love going for walks, with Cooper wearing his snazzy red Pug Harness."
Donna L. & Finn
"5 months ago we adopted Finn, a rescue from the meat trade in Thailand. He had only been in America 2 weeks when we found him at Almost Home, a rescue center in Patchogue, NY. It was love at first sight. He now has a great forever home and the love and joy he has brought to us in just incredible."
Dianna A. & Casanova (Nova)
"In August I lost my best friend and couldn't seem to get over it. In October, my vet happened to have a stray that nobody wanted and asked if I would foster him. I wasn't sure I was ready for another dog yet but I agreed. She said he was "slightly rambunctious". What an understatement! Supposedly about 3 years old but acting like a 6 month old. Someone had dumped him on the side of the road and he was underweight and had not been groomed in who knows how long. They shaved him and it came off in one piece. She said he was part Havanese and Maltese. He is now starting to settle down but still tears thru the house at least once every day. He is friendly to everyone, even little kids and loves to be loved on. Well, he won me over and I adopted him officially. He is so smart and learns quick. He also pulled me on walks (he only weighs 12 lbs!), but he sure is strong. This harness is wonderful as it stopped the pulling and he doesn't escape from it like he did the old one. Now if I can get him to come when called! I am so for people adopting rescues and giving them a great home."
Your happy feels quota might be tapped for the day, but if you have more room for happiness to flow, we invite you to submit the story of you and your furbaby! How did you meet? What's your relationship like? We want to hear the deets! You can submit your story and images using this form.
Stay tuned next month for the next My Featured Friend! Will it be your stories we tell?
Share this post