May 2023 FREE DESKTOP & MOBILE WALLPAPER FOR DOG LOVERS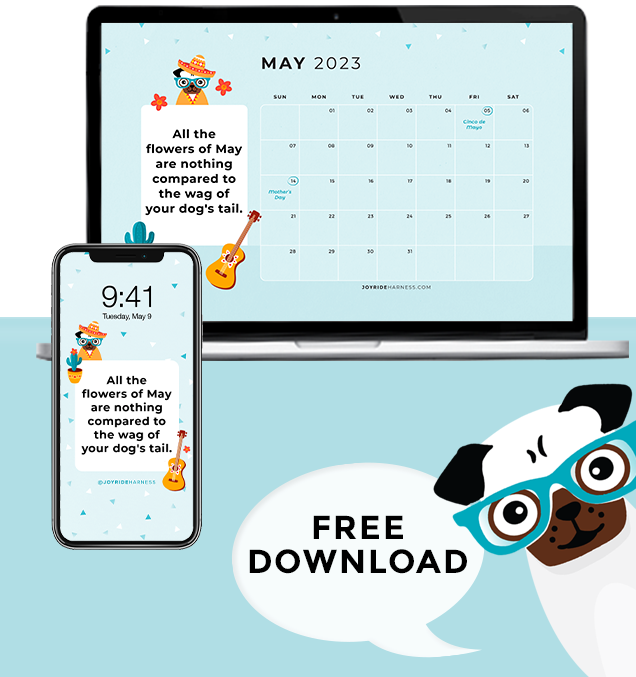 As you dress up your dog with sombrero's or poncho's for Cinco de Mayo, don't forget that we'll also be celebrating another holiday this month (No, Not Star Wars) it's Mother's Day! 
For many dog owners, their furry friends are like children, and they play an important role in their lives. They comfort you when you're feeling down, make you laugh with their silly antics, and always greet you with a wagging tail.
This Mother's Day, take some time to celebrate the bond between you and your dog. Whether it's taking a long walk together, enjoying a special treat, or just spending some quality time snuggled up on the couch, your furry friend will appreciate the extra love and attention. By the way here are some Mother's Day gift guide ideas for dog lovers to help you out. 
We've got new desktop and mobile wallpapers here for you with this special reminder:
"All the flowers of May are nothing compared to the wag of your dog's tail!" 
How to Set The Wallpaper as Your Desktop Background
Below you will find instructions for setting the wallpaper as your background depending on which type of desktop device you're using.

How to Set Up (Mac Users):
1. Download this file: Click Here
2. Save the file to Pictures folder on you Mac.
3. Click the Apple Menu and select System Preferences. 
4. Go to Desktop & Screensaver. 
5. In the left panel, go to Folders > Pictures. 
6. Select the downloaded image. 
OR
1. Download this file: Click Here
2. Save the file to a preferred folder.
3. Open the folder and right click on the downloaded file.
4. Select Set Desktop Wallpaper.
How to Set Up (PC/Windows Users):
1. Download this file: Click Here
2. Click the Windows icon on the bottom of the screen.
3. Select Settings > Personalization.
4. Click on Background.
5. Set the dropdown to Picture and click Browse below the images that appear.
6. Select the downloaded file.
---
We hope you enjoy your new digital download! More on the way from Joyride Harness.
P.S.  Say hello and see adorable dog photos every day by following us on Instagram and Facebook! 🐶 
Share this post