March 2023 Free Desktop & Mobile Wallpaper For Dog Lovers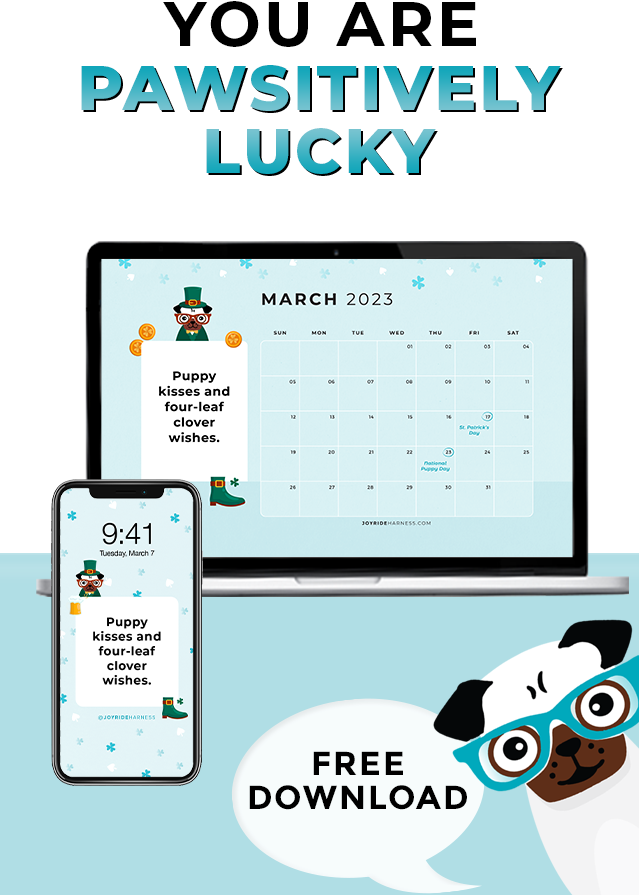 St. Patrick's Day is just around the corner, and it's time to get ready for some fun and green-filled celebration! If you're a proud dog owner, don't worry, you can still include your furry friend in the festivities.
Here are some guidelines for a safe and enjoyable St. Patrick's Day celebration for both you and your dog.
Dress Up
St. Patrick's Day is all about wearing green and dressing up, so why not let your dog join in on the fun too? You can make cute dog costumes and grab green dog accessories like this.
DOG DRESS CODE FOR ST. PATRICK'S DAY
Safety First
While the celebrations can be exciting, they can also be overwhelming for dogs. Keep an eye on your dog at all times and make sure they are safe and comfortable.
Avoid Alcohol
Alcohol can be harmful to dogs, so make sure to keep any drinks out of reach. Additionally, it's always best to keep your dog at home or in a safe place while you're out celebrating.
Take Breaks
If you're going to a St. Patrick's Day parade or gathering, make sure to take breaks for your dog. Give them some water and a place to rest so they don't get too exhausted.
Be Prepared
Make sure you bring a leash, water, and any necessary items for your dog. You never know when they may need a drink or a break.
We've got new desktop and mobile wallpapers here for you with this special reminder:
"Puppy kisses and four-leaf clover wishes."
How to Set The Wallpaper as Your Desktop Background
Below you will find instructions for setting the wallpaper as your background depending on which type of desktop device you're using.

How to Set Up (Mac Users):
1. Download this file: Click Here. 
2. Save the file to Pictures folder on you Mac.
3. Click the Apple Menu and select System Preferences. 
4. Go to Desktop & Screensaver. 
5. In the left panel, go to Folders > Pictures. 
6. Select the downloaded image. 
OR
1. Download this file: Click Here.
2. Save the file to a preferred folder.
3. Open the folder and right click on the downloaded file.
4. Select Set Desktop Wallpaper.
How to Set Up (PC/Windows Users):
1. Download this file: Click Here.
2. Click the Windows icon on the bottom of the screen.
3. Select Settings > Personalization.
4. Click on Background.
5. Set the dropdown to Picture and click Browse below the images that appear.
6. Select the downloaded file.
---
We hope you enjoy your new digital download! More on the way from Joyride Harness.
Sources: The Spruce Pets, Puptrait, ASPCA
Share this post