June 2023 FREE DESKTOP & MOBILE WALLPAPER FOR DOG LOVERS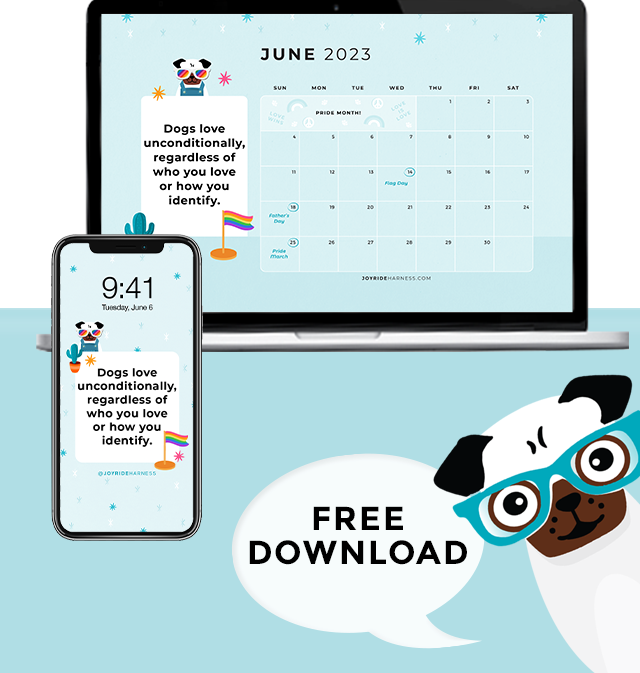 Summer is Here ☀️ Our pets love summer as much as we do! From picnics to hikes, swimming, running or just enjoying a nap in the backyard with your Fur Baby. 
BUT with warmer weather it can be dangerous for our furry friend so here are some summer safety tips to keep in mind: 
1. Never, EVER Leave Your Pet In A Hot Car - It can take just minutes for your dog to develop heat stroke and suffocate in a car. In your next road trip its better to just leave your fur babies at home. 
2. Keep The Paws In Mind - When the sun is up, asphalt and metal can get extremely hot! 
3. Dogs Can Get Sunburn - Believe it or not! Especially furry babies with short or light-colored coats. Sunburns can be painful for a dog and overexposure to the sun can lead to skin cancer. Talk to your veterinarian about sunscreens for your pet (don't assume a sunscreen for people is appropriate for your dog).
Now that you know, get ready to have fun this summer!
Aside from welcoming summertime, this month we celebrate Pride Month!🏳️‍🌈
Every year, people and their furry friends get ready for pride festivals all over the world, celebrating their identities and the rights they stand up for every day.
And guess what? You can totally include your pets in the celebrations!
🏳️‍🌈They're ready for the Pride Parade🏳️‍🌈
If you can't make it to any march near you, you can still have a blast celebrating with your pets at home. We got just the Perfect Pride-Themed gear for you to celebrate this month!
We've got new desktop and mobile wallpapers here for you with this special reminder:
"Dogs love unconditionally, regardless of who you love or how you identify. " 
How to Set The Wallpaper as Your Desktop Background
Below you will find instructions for setting the wallpaper as your background depending on which type of desktop device you're using.

How to Set Up (Mac Users):
1. Download this file: Click Here.
2. Save the file to Pictures folder on you Mac.
3. Click the Apple Menu and select System Preferences. 
4. Go to Desktop & Screensaver. 
5. In the left panel, go to Folders > Pictures. 
6. Select the downloaded image. 
OR
1. Download this file: Click Here.
2. Save the file to a preferred folder.
3. Open the folder and right click on the downloaded file.
4. Select Set Desktop Wallpaper.
How to Set Up (PC/Windows Users):
1. Download this file: Click Here.
2. Click the Windows icon on the bottom of the screen.
3. Select Settings > Personalization.
4. Click on Background.
5. Set the dropdown to Picture and click Browse below the images that appear.
6. Select the downloaded file.
---
We hope you enjoy your new digital download! More on the way from Joyride Harness.
P.S.  Say hello and see adorable dog photos every day by following us on Instagram and Facebook! 🐶 
Share this post