July 2023 Free Desktop & Mobile Wallpaper For Dog Lovers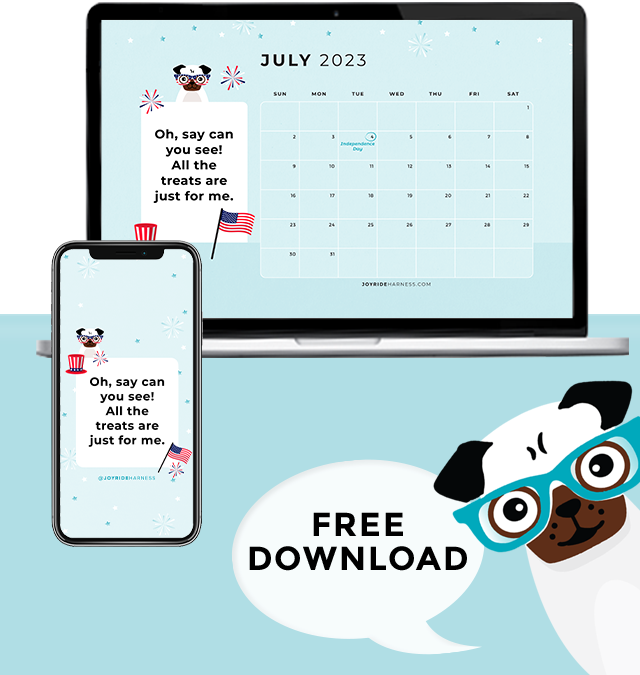 As July rolls in, dog owners around the country are gearing up for a month filled with exciting celebrations and summer adventures. 
This is the perfect time to create lasting memories with our four-legged companions. From beach trips to backyard barbecues and dazzling fireworks for July 4th! Embrace the summer vibes and deck ourselves out in red, white, and blue! 
Remember, July 4th also means Fireworks, and despite being a festive day, it could also be stressful for your fur baby! So here are tips for caring for your scared dog during the July 4th Fireworks.
We've got new desktop and mobile wallpapers here for you with this special reminder from your dogs: 
"Oh, say can you see! All the treats are just for me." 
How to Set The Wallpaper as Your Desktop Background
Below you will find instructions for setting the wallpaper as your background depending on which type of desktop device you're using.

How to Set Up (Mac Users):
1. Download this file: Click Here.
2. Save the file to Pictures folder on you Mac.
3. Click the Apple Menu and select System Preferences. 
4. Go to Desktop & Screensaver. 
5. In the left panel, go to Folders > Pictures. 
6. Select the downloaded image. 
OR
1. Download this file: Click Here.
2. Save the file to a preferred folder.
3. Open the folder and right click on the downloaded file.
4. Select Set Desktop Wallpaper.
How to Set Up (PC/Windows Users):
1. Download this file: Click Here.
2. Click the Windows icon on the bottom of the screen.
3. Select Settings > Personalization.
4. Click on Background.
5. Set the dropdown to Picture and click Browse below the images that appear.
6. Select the downloaded file.
---
We hope you enjoy your new digital download! More on the way from Joyride Harness.
P.S. Hear what dogs parents have to say about Joyride Harness!
⭐️⭐️⭐️⭐️⭐️ Melissa H.
"This is the best harness for my mini Australian Shepherd. Fits her perfectly and it does not put any pressure on her throat. It is made incredibly well and looks amazing too!"
⭐️⭐️⭐️⭐️⭐️ Sharon L.
"Best harness ever!
Quick to put on and take off; comfortable for our dog; versatile to adjust clip on top or side; and he looks so handsome with harness on." 
⭐️⭐️⭐️⭐️⭐️ Sharon L.
"I appreciate the ease of getting my dog into the harness, a quick over the head and buckle on the side and we're ready. My previous harness took getting her paws through two arm holes, Velcro, then a clasp, and hooking the leash through 2 D rings. It's made really well. If I ever had to pick her up to get her out of harms way, the solid handle on the back would facilitate that. It's a "JOY"!"
--
For more reviews visit JoyrideHarness.com
Share this post