Harness Files | Interview with Terri & Peyton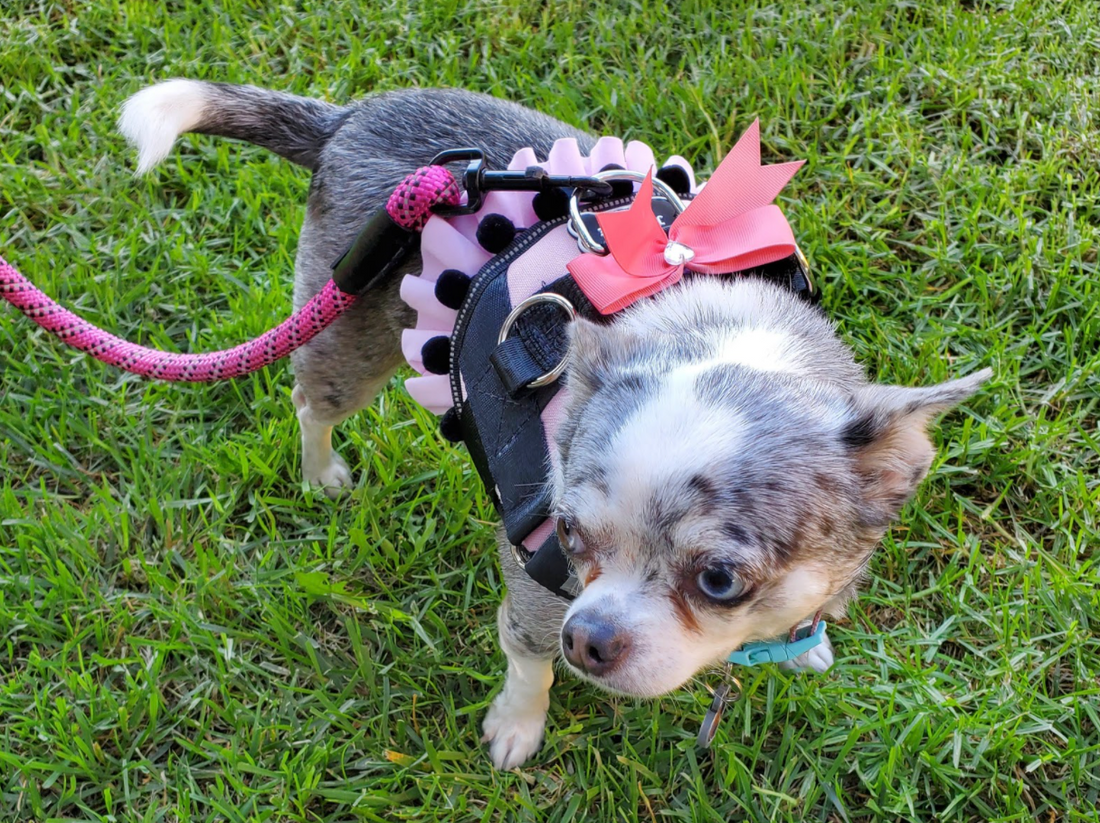 Back in 2019, we introduced a new series to our blog called the Harness Files! This is where we reach out to customers who've made noticeable impressions to our team online and we ask them about their experience with the Joyride Harness (formerly known as Pug Life Harness) and their fur baby.
An adorable pup caught our eye and we reached out to their dog parent Terri for a Harness Files Interview!
Meet Peyton
JRH: How did Peyton join your family?
Terri: We already had 1 rescue dog, Khloe, but she was such a daddy's girl, I wanted a baby for me. My friend knew of a place that they really needed to get these pups out of the awful situation.  So she told me I have a baby for you that I know you will love. She went and picked her up and the man just flung her at my friend and said; get her out of here. Peyton was very afraid, it took a few hours to get her to come out of the carrier. Once she did, she was totally mine. She is full Chihuahua, she is what's called Merle, she has 1 dark blue eye, with a speck of light blue. And the other is a light blue eye. My husband calls it her terminator eye. She was 5 months old, 2.5 lbs when she came to our family. She is now 3 years old and 14 lbs. And loved & spoiled beyond. 
JRH: How did Peyton get their name?
Terri: I named Peyton, Peyton Emm #18. When people ask her name, I say; Peyton Emm #18, #Broncos, #PeytonManning.
JRH: How would you describe the joy Peyton brings to your life?
Terri: I've had a dog or 2 my entire life. I've loved them all, but Peyton has made a special place in my heart because of how she responds to me. If I scold her, she will come up onto my chest and put her head down onto my chest, like she's saying; mommy, I'm sorry. It is the sweetest. When I walk in she is like a little pony, wanting me to pick her up and say hello, I'm home. 
She cries at my feet to be picked up if we have company, she wants to be up by me talking to whom I'm talking to. I always say, I love this girl as if I gave birth to her myself, that's the only way I know how to describe the overflowing of love I have for her.
JRH: How would you describe your walking experience before the harness?
Terri: Walking with Peyton was always difficult because we never had the right Harness for her. When they don't fit properly, then it's difficult to walk. She wasn't always happy either, she would stop and want me to pick her up. I have ordered so many harnesses online and never did they fit like they claimed, always having to return. When I saw the Joyride Harness, I loved the look, how it went on and how easy it is to put on. It's not complicated at all. Peyton is happier with it also.
JRH: How has the Joyride Harness helped?
Terri: So much nicer of a walk she's happy, mommy's happy. And the best part, true to your sizing. I was so worried I would have to exchange. Nope, PREFECT!!! I TRULY love them. Both our girl's have one. Peyton is what I call my girly girl dog, so I've made 2 little addons to her harness that I just attach with velcro, so I can change it out if I want to. Because everyone already stops us because of her markings & her colored eyes, I love having her dressed up too. Thank you Joyride for such a great harness.
JRH: If Peyton could spend an entire day doing their favorite things, what would that day look like?
Terri: If Peyton could spend the day on her terms....it would be, being right by my side. Going shopping with me and even out to lunch. She truly is a mommy's girl and as long as I'm with her, she would be in 7th heaven.
JRH: Who would you cast to voice Peyton in a live action dog movie?
Terri: If Peyton was cast in a movie, I totally would love Ellen DeGeneres. I know if she actually saw Peyton and how she is, she would do the best job for my Peyton Emm.
A huge thank you to Terri for connecting with us for an interview! We loved learning more about Peyton. 
*Joyride Harness runs weekly giveaways. Want in on the next one? Make sure you're following our Facebook page for updates:
CLICK HERE
Share this post