Harness Files | Interview with Bess & George the Silver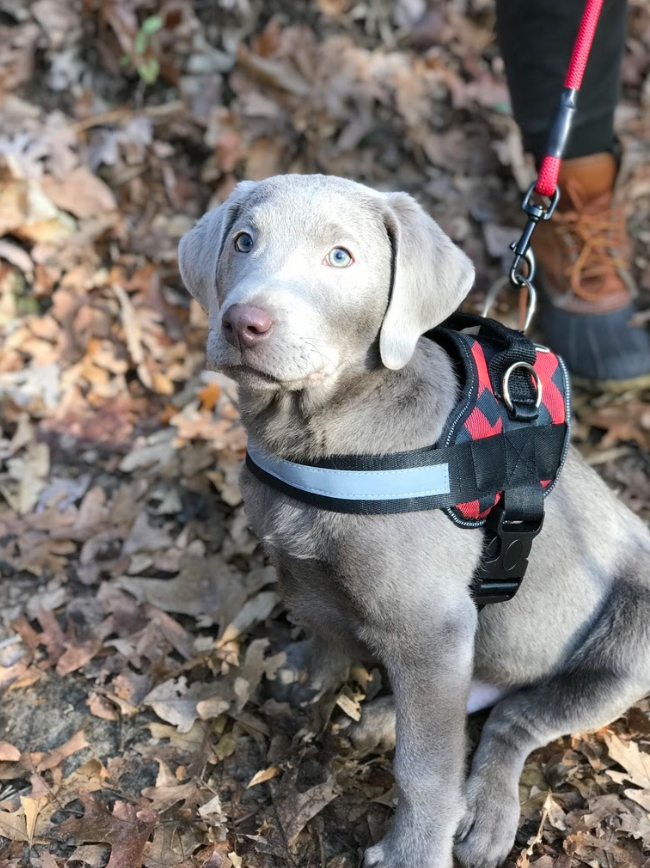 Back in 2019, we introduced a new series to our blog called the Harness Files! This is where we reach out to customers who've made noticeable impressions to our team online and we ask them about their experience with the Joyride Harness (formerly known as Pug Life Harness) and their fur baby.
Most of these impressions come from Instagram because that's where we see the fur baby photos all the time. George the Silver caught our eye and we didn't waste a beat. We messaged George's human and asked if they'd be interested in sharing their Joyride Harness story!
Meet George
Harness Size: Small
Harness Pattern: Red Plaid
JRH: How did George become a part of your life? 
Bess: We had recently lost our beloved dog of 9 years, Benjamin, when we found George's litter up for adoption online. Our older dog, Hugo, was lonely after losing his brother, and we knew he needed a new family member as much as we did. We immediately fell in love with George after seeing his pictures (how could you not?!) and adopted him shortly thereafter.
JRH: How did George get their name? 
Bess: We had thought about naming George something else, but the second my father saw the new puppy we'd brought home, he pronounced him George. The name stuck—but we call him Georgie, too!
JRH: What is it about the Pug Life Harness that you like and how has it helped with your walks with George? 
Bess: We've been fans of the Pug Life Harness [now Joyride Harness] for a few years now. Our favorite thing is that it doesn't restrict our dogs' breathing in the same way a collar would, which is very important to us. We also love that it allows for great mobility—both of our dogs love long walks and to run around on trails, so a harness which allows them to move around freely is wonderful. Our vet told us that harnesses can help dogs feel safe when outside the house and on walks, which is wonderful. The Pug Life harness is very durable, which is great, because George, as a puppy, can sometimes be a chewer. And of course, we also think George looks especially cute in his harness, and are so happy that sizes for puppies are offered!
JRH: Which harnesses (and size) harness do you have for George? 
Bess: We have the limited edition red plaid harness in a size small for George right now, and a standard red harness in a size medium ready to go, since he's growing very quickly!
JRH: What are some quirks and things about George that you love? 
Bess: George is an unusually smart dog. He's affectionate and adorable. He's also quite calm for a puppy. But our favorite thing about George is probably how much he loves his 'brother', Hugo, our chocolate lab. They eat together, play together, and sleep together (quite often, George sleeps on top of Hugo—even on his head!).   
JRH: If you were to cast someone to do the voice of George in a live action dog movie, who would it be and why? 
Bess: It might have to be, like, one of the Stranger Things kids, since he's just a puppy! 
A huge thank you to Bess for the interview!! On Instagram? To follow along George's adventures CLICK HERE. Are you a customer and want to be interviewed for our blog? Drop a comment and we'll reach out!
Share this post