See The Joyride Harness In Action: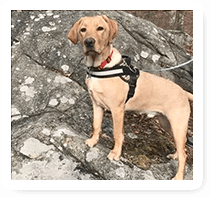 Making life much easier for everyone!
ANGIE W.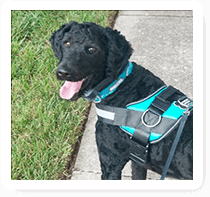 Best Harness Ever!
DANA D.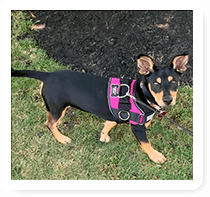 No more wrestling with our puppy!
BRIAN B.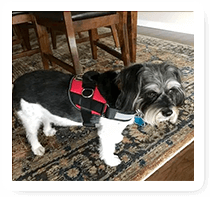 My girl LOVES this harness!
ASHLEY C.

Summer Harness for Dogs – Stars and Stripes 
Make monochromatic dog harnesses a thing of the past and celebrate the dog days of summer with our Stars and Stripes Dog Harness. Featuring a bold red and white stripe with blue star accents, this gender-neutral harness is perfect for bringing your dog to 4th of July picnics and beyond. 
When choosing the best summer harness for dogs, you want one that is breathable to combat the summer heat but also strong enough to keep your dog safe and secure (especially when it comes to fireworks). Our no-pull harness solution offers both those features and more, including a fleece lining for comfort and reflective stitching for nighttime visibility. 
Our extended side range can fit dogs ranging from 4lbs to 140lbs. So, whether you have a Pomeranian or a German Shepherd, our dog harnesses can adjust for the perfect fit on virtually any breed. 
Summer Harness For Dogs Features
- Durable construction using breathable fabric
- Reflective stitching for increased nighttime visibility 
- Three attachment points, including side rings to discourage pulling and a back ring that can be used with a safety seat belt
Our Stars and Stripes harness is just one of our Patriotic options– we also have a Patriotic Red Harness and a Patriotic Blue Harness available. Looking for a more monochromatic dog harness? You might enjoy our Paw Polka Dots Dog Harness or our Black and White Plaid Harness. 
Confused on what size to pick? Use our sizing guide below:
For size 'XS', dogs should weigh between 5-9 lbs and have a chest size of 12-17". Suitable breeds include Chihuahuas, Yorkies, Pomeranians, and Small Puppies.
For size 'S', choose this for dogs weighing 10-19 lbs, chest 17-22". This fits Mini Schnauzers, Shih Tzu, Bichon Frise, and Maltese.
Size 'M' is ideal for dogs weighing 20-40 lbs with a chest size of 23-28". This includes breeds like Pugs, French Bulldogs, and Corgis.
Size 'L' is for dogs weighing 40-60 lbs, chest size 28-33", fitting breeds like Australian Shepherds, Basset Hounds, and Standard Poodles.
For size 'XL', select this for dogs weighing 60-85 lbs, with a chest size of 33-38". Breeds like Labs, German Shepherds, and Golden Retrievers fit into this size.
Lastly, size 'XXL' is for dogs weighing 85-140 lbs, chest size 38-44". Breeds in this category include Rottweilers, Tibetan Mastiffs, and Bullmastiffs.