See The Joyride Harness In Action: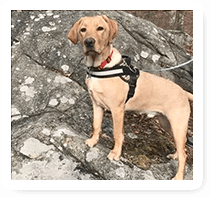 Making life much easier for everyone!
ANGIE W.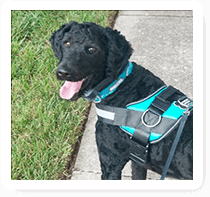 Best Harness Ever!
DANA D.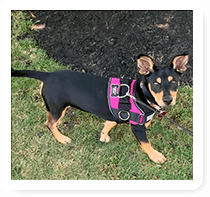 No more wrestling with our puppy!
BRIAN B.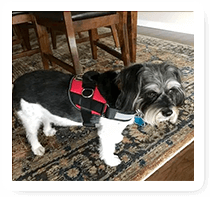 My girl LOVES this harness!
ASHLEY C.

Camo Dog Harness Additional Information
We fully believe that your dog's harness should match their personality and that as a pet parent, you should never have to choose between style and safety. Our Camo Dog Harness is the perfect choice for all the pups who are tough–or who think they are. Just like your dogs, our modern harnesses have both the looks and durability to go far on your next adventure, whether that's in the woods or in the city. 
The Joyride Camo Dog Harness is the best harness you can buy for your dog because it is stylish, safe, and comfortable. All of our harnesses are constructed using durable materials, including breathable fabric and a soft fleece lining. This means that you never have to worry about compromising your fur baby's comfort for their safety. 
Think a Camo Dog Harness will make your pup harder to see? We added reflective material to the construction of all our harnesses so you and your dog will always be seen, day and night.
Our easy-on, easy-off, no-pull harness is a quick solution to better control, regardless of their age or level of training. The Joyride Camo Dog Harness is available in six sizes and has multiple adjustment points to fit a wide range of dogs. For dogs that like to escape, they will have difficulty wiggling out of a Joyride Harness, which is what makes it the best option for Beagles and other escape hounds.
By combining your dog's comfort, ease-of-use, extra padding, and additional safety features, our Camo Dog Harness is the best choice for all your adventures together.
Camo Dog Harness Features 
-Available in six sizes from XS-XXL
-Revolutionary side-ring technology stops pulling
-Reflective material increases nighttime visibility
-Three attachment points on the sides and back
-Compatible with our dog safety seat belt
If you like our Camo Dog Harness, you might also like our Pink Camo Dog Harness and Stars and Stripes Dog Harness.  
Confused on what size to pick? Use our sizing guide below:
For size 'XS', dogs should weigh between 5-9 lbs and have a chest size of 12-17". Suitable breeds include Chihuahuas, Yorkies, Pomeranians, and Small Puppies.
For size 'S', choose this for dogs weighing 10-19 lbs, chest 17-22". This fits Mini Schnauzers, Shih Tzu, Bichon Frise, and Maltese.
Size 'M' is ideal for dogs weighing 20-40 lbs with a chest size of 23-28". This includes breeds like Pugs, French Bulldogs, and Corgis.
Size 'L' is for dogs weighing 40-60 lbs, chest size 28-33", fitting breeds like Australian Shepherds, Basset Hounds, and Standard Poodles.
For size 'XL', select this for dogs weighing 60-85 lbs, with a chest size of 33-38". Breeds like Labs, German Shepherds, and Golden Retrievers fit into this size.
Lastly, size 'XXL' is for dogs weighing 85-140 lbs, chest size 38-44". Breeds in this category include Rottweilers, Tibetan Mastiffs, and Bullmastiffs.