See The Joyride Harness In Action: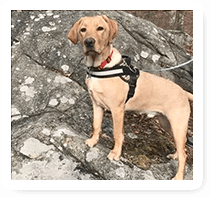 Making life much easier for everyone!
ANGIE W.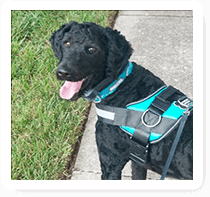 Best Harness Ever!
DANA D.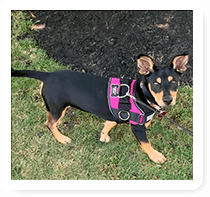 No more wrestling with our puppy!
BRIAN B.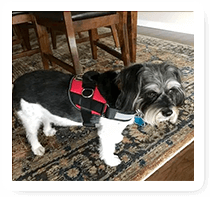 My girl LOVES this harness!
ASHLEY C.

Purple Plaid Dog Harness Additional Information 
Our purple dog harness features a stylish plaid design that will have your pup looking pretty on all of your adventures. In addition to good looks, your dog will also be the safest they have ever been when outfitted in a Joyride Purple Plaid Dog Harness.  
We believe that the safest dog harnesses should be attractive. We also believe that when it comes to dog tools, heavy-duty shouldn't mean difficult to use. Our Purple Dog Harness offers a simple solution to a common problem: how to easily stop your dog from excessive pulling. The Joyride Harness Purple Plaid Dog Harness is one of the best tools you can use to teach your dog not to pull. With our revolutionary side-ring technology, when your dog tries to pull, they will spin around and face you. This purple plaid harness, when combined with some training, will quickly teach your dog that pulling gets them nowhere.
Our harnesses come in six sizes, ranging from XS to XXL, and have multiple adjustment points, making Joyride the best harness for all breeds, including Corgis, Rottweilers, French Bulldogs, and Cocker Spaniels. When sized correctly, a harness is the safest option for your dog because it prevents them from escaping and doesn't add any pressure to their delicate neck. 
Purple Dog Harness Features 
-Stylish purple plaid design suitable for all breeds and coat colors
-Durable construction with soft fleece prevents chafing
-Attaches easily for a full range of motion
-Reflective stitching increases nighttime visibility
-Available in six sizes
If you like our purple plaid dog harness, you may also like our Lavender Plaid Harness, Blue Plaid Harness, and Tie-Dye Harness.