Customer Reviews
Write a Review
Ask a Question
I have a problem! It makes a noise as the dog walks . It. Is annoying. Any suggestions. I tried tying the silver loop on the side I am not using. There is still flapping sound. Thanks Marty
Using the side rings does help with pulling!
Very easy to use !! Great purchase !!
Easy to adjust. Great design
Perfect! Goes on and off in 2 seconds. We love it.
The harness is great but way overpriced. Am identical item sells for $13.95.
I am very happy with the harness thus far. I have only had the opportunity to use it a couple of times but my strong, 68# puller seemed calm and secure with it on. I am a 69 year old gal with arthritis in my thumb and fingers so pinching the tabs on the belly band clasp to open is a bit of a challenge for me but it does need to be strong and secure for a strong dog.
Easy to adjust, handsome and secure.
Have on a 5 month havanese.
I love the ease of using this harness. My little girl is able to step out of this harness but give her another pound or two and it will be perfect. I love that this product won't pull her hair.
Love these harnesses. We have two dogs and they work perfectly. Had to get one size up for smaller pup as he gained a little weight over the holidays
Easy to use harness for a pit bull. She loves it!
Very Good Constructed Harness.
I use this harness on my 140 lb Great Dane. Easy on and off design. The wide chest and girth straps are comfortable for my dog. It fits right on the withers of the dog. I would like to see more padding there. Reflective stripe on chest strap and stitching on the pad are very visible at night. The rings are securely sewn on. I think this is a good harness for the money.
I have purchased about 7 harnesses. Her body shape just doesn't fit - xsmall is too small, small swallows her. This is the best one so far. It's a bit much as in BULKY. She doesn't like it very well. Refuses to jump up with it on. It has slipped over her head a couple of times. She also doesn't like the loud click of the buckle mechanism. Thanks!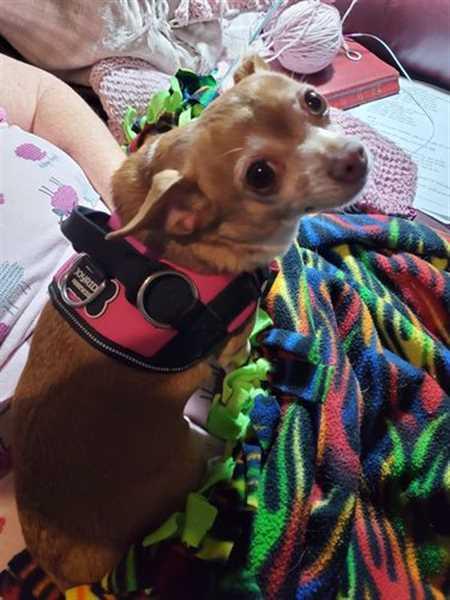 im not sure but i thought her name was going to be labeled. regardless very easy to use , control of her is surprisingly unexpected teally cool thank you!
We have 2 pugs. There little bodies are hard to fit with harnesses and jackets. The harness fits perfect, and each pug has a different body shape. One a bit taller and thinner, the other more barrel shape. They like them. They don't mind the harness being put on. Best thing I've bought online!
This is the first harness I have found that my dog doesn't fight putting on or off. Great fit and design.
The clip is really hard yo open and close !! But I love it I got a small for my baby girl and she loves it also!! This is the best I believe you could ever find all around fit, safety, charm, obedience! Thank you so much!! I LOVE IT!!❤️❤️❤️❤️❤️❤️❤️