GUARANTEED (Even if Chewed) means we will replace any Joyride Harness Pet brand dog collars, leashes or pet gear that has been accidentally damaged during normal pet-related activities, even chewing accidents!
Our guarantee
does not
cover products which are:
Lost
Outgrown
Fully functional
Simply dirty or stinky
Exhibiting normal wear and tear, including fading
Damaged intentionally, or by repeated activity and therefore not accidental
Items that were donated, sponsored, or given as a free promotion
We reserve the right to limit the number of free replacements when there is excessive use or abuse of our guarantee.
Custom Area
Customer Reviews
Write a Review
Ask a Question
10/09/2022
Sophia S.

United States
07/03/2022
Jessica A.

United States
06/20/2022
Howard T.

United States
Beautiful!! This is the second harness I purchased. The first was for my dog Champ, who has since passed on. My most recent purchase is for LucyLu, our almost 1 yr old, Australian Cattle Dog. Along with the harness I also purchased the leash with the control loop, as I call it. This works great with LucyLu.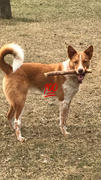 06/05/2022
Shalon B.

United States
Worth it!!
I recently bought a new harness and with a Lab (BB) thought I would include the lifetime guarantee and I am so glad I did. We were not even 1 month in to having the new harness when my BB slipped it off and chewed through he strap. Joyride made it so easy to reach out to them and were quick to send out a new harness. This was definitely worth the money and would recommend not only the warranty but this company to anyone that needs a harness for your pups! We also got one for our other dog as well!
04/25/2022
kitty s.

United States
03/21/2022
Tanya M.

United States
03/06/2022
Thomas T.

United States
11/22/2022
Teri S.

United States
Love this harnes
Fast shipping and excellent product. This is easy to put on and take off.