Customer Reviews
Write a Review
Ask a Question
Diva, my 2 year old Cavachon, loves going for walks, & when we brought out her new beautiful Pug harness, she didn't know what was going on! I had it on her so fast she didn't know what to think! Her old harness was a struggle & she was fighting us the entire time until I finally got it on her with hubby's help. She used to pull us down the street like a crazy 23 lb. out of control animal! We dreaded the whole idea & put off taking her because we were so exhausted & aggravated we didn't want to go through that ordeal day after day. Then I saw your advertisement on Facebook & I researched it & saw so many people putting it on their dogs so easily that I finally decided to give ONE more try with what looked like a DREAM come true, easy to put on with just one person. I kept thinking it would not be as good as it looked, but was willing to give it a try & NOT give up the joy of walking my DIVA! Wow, what a wonderful surprise it was when it arrived & we had our first walk! It took Diva one nice walk to love her harness & for me to actually enjoy our daily walks at last!! I didn't mean to make this reply so long, but I have told everyone I know about this & a couple of neighbors are checking it out. One more thing. I called my daughter & was telling her about it & she said "Mom, I just bought 2 of these for my dogs a couple of weeks ago & I love them!" Like Mother, like daughter as the old saying says! You guys really nailed a winner on this one! I also got the black leash with the lower handle on it that is perfect for walking in our neighborhood or where there is traffic or other dogs walking. Thank you a million times over!! And Diva thanks you, too! Judy Bennett & Diva girl!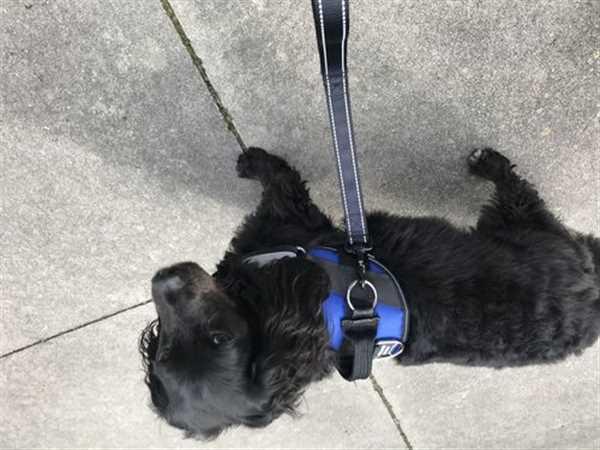 This leash makes walking our beagle so easy. The padded handle makes control easy and the leash is sturdier than any I had found. Also bought one for our pit bull! It's a wonderful product and makes walking such a pleasure. Highly reocmmend!
I love the ease of walking my dog with this harness. The double handle on the leash is great also. Quality in both. Well worth buying.
This leash is great for big strong willed dogs. The ability to walk our big puppy is very improved as there is no awkward pulling.
Love the color red and it is perfect! I bought a black and a red one. I have a pug and also a Shih Tzu. They walk side by side. Thanks
I love the leash.. it is the perfect size and easy to use. It is just the right length. I got two of them since I walk two dogs and it works great for us. Thanks