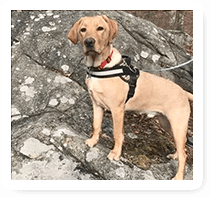 Making life much easier for everyone!
ANGIE W.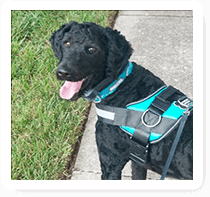 Best Harness Ever!
DANA D.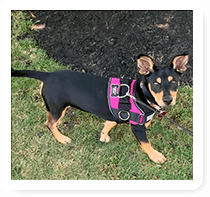 No more wrestling with our puppy!
BRIAN B.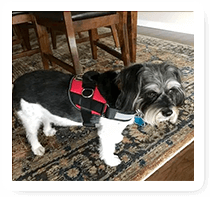 My girl LOVES this harness!
ASHLEY C.
Deshedding Glove for Dogs and Cats
Kiss your fur-covered stuff goodbye!
We love our pets, but shed happens–and sometimes, all that fur gets out of control. Regular grooming is an essential part of maintaining your dog's health and preventing a fur overload in your home. But if you find regular brushes to be a hassle, you're in luck! Our deshedding glove makes everyday grooming a breeze for both dogs and cats!
Our pet-friendly deshedding glove features gentle silicone tips that remove pet fur effectively and quickly while massaging them at the same time. And using it is easy: simply slip on the dog and cat grooming glove and start brushing! Use it while giving your fur baby a bath or when lounging around with them. The benefit of a glove-style versus a mitt is you regain full control over each individual finger.
No more fussing with sharp brushes or tough combs! 
These deshedding gloves work well for pets who feel anxious about traditional grooming because you are "petting" the fur away with your hand instead of a tool. Your pet thinks you're busy spoiling them when you're really giving them some much-needed grooming. 
Our dog and cat grooming glove is available in three fun colors! Here are more great details about our gentle deshedding glove.
Deshedding Glove Features:
-Easy and quick to use
-Hair sticks to the glove -- simply peel and toss
-Silicon surface material
-Allow you to remove excess fur in hard to reach areas
-Guaranteed to minimize sheddings
-Helps stimulate the skin for a shinier, healthier top coat
-Mimics real human touch that relaxes pets
-Great for dogs (and cats) of all sizes and fur types!
Dimensions --
7 x 9 inches
For any questions, feel free to ask!